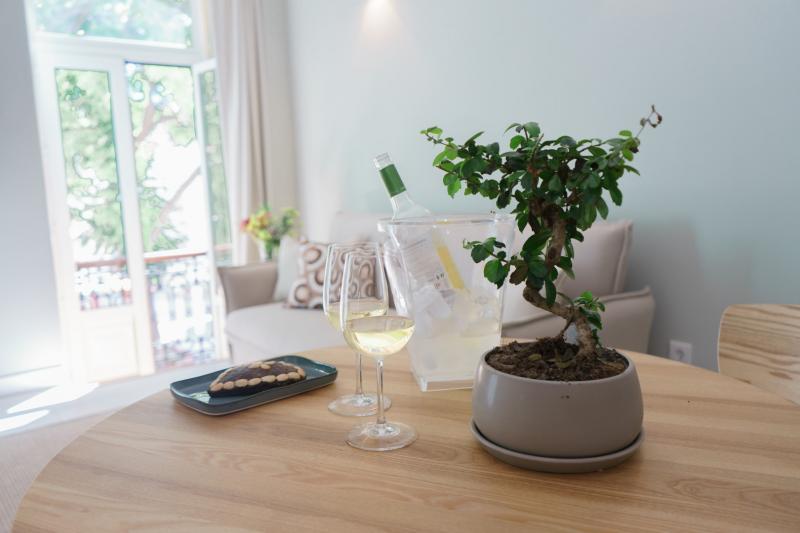 Located in a beautiful traditional building in the heart of Lagos, Casa Margô has been converted into 14 sophisticated and stylish apartments.
Casa Margô is an Award-winning Residential Hotel at Praça Luis De Camões in Lagos' historical city centre. Filled with original features, the experience begins from the moment you open of the tall traditional door into the beautiful lobby with the wide staircase and original wood beams leading to the reception area.

Each apartment is unique, although each have as minimum a shower-room with walk-in shower, a kitchenette (including oven, mircrowave, sink, plates, glasses, etc, kettle, and toaster), dining table and chairs, wardrobe, air conditioning, Cable TV, and Wifi. Some of the rooms open out onto the plaza where you can appreciate the atmosphere of the hustle and bustle on the street below or close the window for quiet.

Guests are welcome enjoy the outdoor swimming pool and shared indoor and outdoor lounge areas.

There is no parking on site, however, there is a private drop off area and public car-parks nearby.

SERVICES
Elevator
Linen included
Towels included
Air conditioning
Reading room
Open air swimming pool
Luggage room
Safe in every room
Laundry service (charges apply)
Free internet access


Nightly rates for minimum 21 nights
-self catering
-daily cleaning included (except kitchenette)
-utilities included
-rates are in Euros, include all taxes, and for up-to 2 people (extra person is charged 5,00 Euros/night)
-all bookings to be confirmed on request

October to February
Studio €60
T1 €67
T1+1 €70

March and April
Studio €65
T1 €72
T1+1 €75

Check-in time from: 3:00 PM
Latest check-out time: 11:00 AM
Reception opening hours: From 9:00 AM to 11:00 PM

All rooms are non-smoking.


From:
€1,800/month
RATES:
ENQUIRE NOW
PROPERTY MAP
PROPERTY FEATURES:
Construction Area: 0m2
Air Conditioning
Safe
Swimming Pool: Shared
Hairdryer
Walking distance to amenities
Close to Town
Walking distance to the beach
Microwave
WiFi Internet - High Speed (Fibre)
En-suite bathroom
Availability
January 2022
S
M
T
W
T
F
S
1
2
3
4
5
6
7
8
9
10
11
12
13
14
15
16
17
18
19
20
21
22
23
24
25
26
27
28
29
30
31
February 2022
S
M
T
W
T
F
S
1
2
3
4
5
6
7
8
9
10
11
12
13
14
15
16
17
18
19
20
21
22
23
24
25
26
27
28
March 2022
S
M
T
W
T
F
S
1
2
3
4
5
6
7
8
9
10
11
12
13
14
15
16
17
18
19
20
21
22
23
24
25
26
27
28
29
30
31
April 2022
S
M
T
W
T
F
S
1
2
3
4
5
6
7
8
9
10
11
12
13
14
15
16
17
18
19
20
21
22
23
24
25
26
27
28
29
30
May 2022
S
M
T
W
T
F
S
1
2
3
4
5
6
7
8
9
10
11
12
13
14
15
16
17
18
19
20
21
22
23
24
25
26
27
28
29
30
31
June 2022
S
M
T
W
T
F
S
1
2
3
4
5
6
7
8
9
10
11
12
13
14
15
16
17
18
19
20
21
22
23
24
25
26
27
28
29
30
July 2022
S
M
T
W
T
F
S
1
2
3
4
5
6
7
8
9
10
11
12
13
14
15
16
17
18
19
20
21
22
23
24
25
26
27
28
29
30
31
August 2022
S
M
T
W
T
F
S
1
2
3
4
5
6
7
8
9
10
11
12
13
14
15
16
17
18
19
20
21
22
23
24
25
26
27
28
29
30
31
September 2022
S
M
T
W
T
F
S
1
2
3
4
5
6
7
8
9
10
11
12
13
14
15
16
17
18
19
20
21
22
23
24
25
26
27
28
29
30
October 2022
S
M
T
W
T
F
S
1
2
3
4
5
6
7
8
9
10
11
12
13
14
15
16
17
18
19
20
21
22
23
24
25
26
27
28
29
30
31
November 2022
S
M
T
W
T
F
S
1
2
3
4
5
6
7
8
9
10
11
12
13
14
15
16
17
18
19
20
21
22
23
24
25
26
27
28
29
30
December 2022
S
M
T
W
T
F
S
1
2
3
4
5
6
7
8
9
10
11
12
13
14
15
16
17
18
19
20
21
22
23
24
25
26
27
28
29
30
31
Enquire about this property / Booking Request