Casinha Branca A (Ground Floor)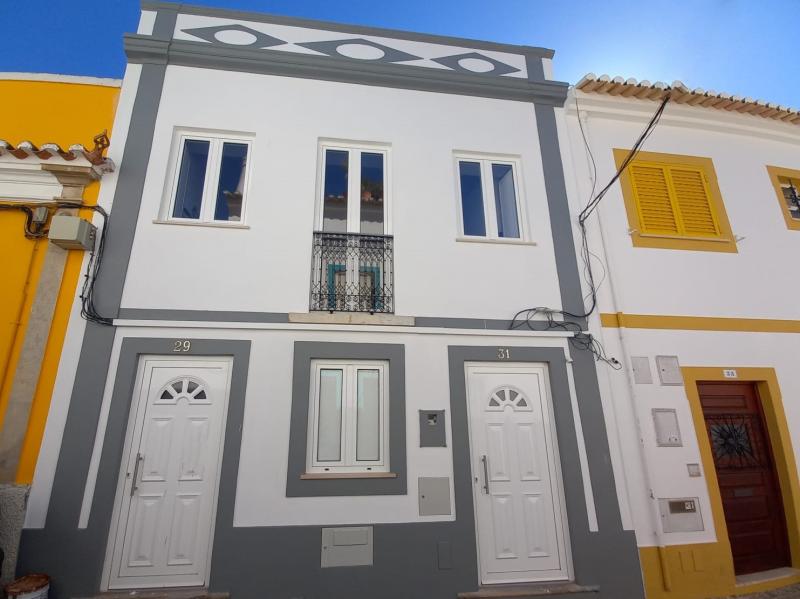 Stylish, high-spec, ground floor studio apartment on Rua das Alegrias in the historical centre of Lagos, on a quiet street yet only a few steps from fabulous restaurants, cafés and shops.
This is the ground floor of a two story town house split into two studio apartments that can be rented out as one whole house or two separate studios. Although fully renovated, the exterior of the building retains its traditional Portuguese charm.

Clever use of space is made throughout, such as the custom-made cabinetry which acts as a room divider, bedroom storage, and television unit. The deep set window alcove provides a perfect breakfast bar or workspace. The fixtures are stylish and good quality and include a walk-in shower, ample kitchen, comfy sofa.

Air conditioning for heating and cooling. High speed WiFi. Sleeps up to 2 people.


From:
€500/month
RATES:
Titular da Exploração do Estabelecimento:
Mohamed Saif-Ullah Malik
Nº Licença:
115338/AL
ENQUIRE NOW
PROPERTY MAP
PROPERTY FEATURES:
Air Conditioning
Cable TV
Walking distance to amenities
Close to Town
Coffee Maker
Microwave
Walking distance to the beach
Washing Machine
WiFi Internet - High Speed (Fibre)
Availability
September 2021
S
M
T
W
T
F
S
1

2

3

4

5

6

7

8

9

10
11
12
13
14
15
16

17

18

19

20
21
22
23
24
25
26
27
28
29
30
October 2021
S
M
T
W
T
F
S
1
2
3
4
5
6
7
8
9
10
11
12
13
14
15
16
17
18
19
20
21
22
23
24
25
26
27
28
29
30
31
November 2021
S
M
T
W
T
F
S
1
2
3
4
5
6
7
8
9
10
11
12
13
14
15
16
17
18
19
20
21
22
23
24
25
26
27
28
29
30
December 2021
S
M
T
W
T
F
S
1
2
3
4
5
6
7
8
9
10
11
12
13
14
15
16
17
18
19
20
21
22
23
24
25
26
27
28
29
30
31
January 2022
S
M
T
W
T
F
S
1
2
3
4
5
6
7
8
9
10
11
12
13
14
15
16
17
18
19
20
21
22
23
24
25
26
27
28
29
30
31
February 2022
S
M
T
W
T
F
S
1
2
3
4
5
6
7
8
9
10
11
12
13
14
15
16
17
18
19
20
21
22
23
24
25
26
27
28
March 2022
S
M
T
W
T
F
S
1
2
3
4
5
6
7
8
9
10
11
12
13
14
15
16
17
18
19
20
21
22
23
24
25
26
27
28
29
30
31
April 2022
S
M
T
W
T
F
S
1
2
3
4
5
6
7
8
9
10
11
12
13
14
15
16
17
18
19
20
21
22
23
24
25
26
27
28
29
30
May 2022
S
M
T
W
T
F
S
1
2
3
4
5
6
7
8
9
10
11
12
13
14
15
16
17
18
19
20
21
22
23
24
25
26
27
28
29
30
31
June 2022
S
M
T
W
T
F
S
1
2
3
4
5
6
7
8
9
10
11
12
13
14
15
16
17
18
19
20
21
22
23
24
25
26
27
28
29
30
July 2022
S
M
T
W
T
F
S
1
2
3
4
5
6
7
8
9
10
11
12
13
14
15
16
17
18
19
20
21
22
23
24
25
26
27
28
29
30
31
August 2022
S
M
T
W
T
F
S
1
2
3
4
5
6
7
8
9
10
11
12
13
14
15
16
17
18
19
20
21
22
23
24
25
26
27
28
29
30
31
Enquire about this property / Booking Request