Sea & Garden View Apartment, Luz (SG-1M)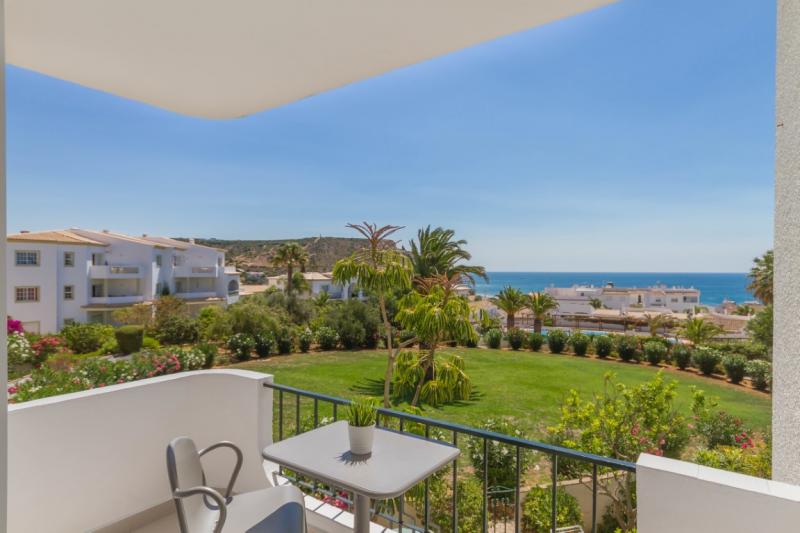 Chic and well located, this super holiday apartment has been beautifully renovated and enjoys a fabulous sea view.
The 2 bedroom apartment is located on a quiet street yet within easy reach of a range of great restaurants, 2 minutes walk to the supermarket, and 5 minutes walk to the beach.

There is a double bedroom, a twin bedroom, and a shower-room with walk-in shower. The ultra-contemporary kitchen is fully fitted and the south-east facing balconies can be accessed from both the living room and the double bedroom.

A/C is installed in the living room and double bedroom, the 2nd bedroom has a fan.

WiFi and cable TV are installed.

Off-street parking available.


From:
€900/month
RATES:
Titular da Exploração do Estabelecimento:
Shirley Dreger Gilbert
Nº Licença:
114699/AL
ENQUIRE NOW
PROPERTY MAP
PROPERTY FEATURES:
Air Conditioning
Balcony
Cable TV
Hairdryer
View: Sea, Garden
Walking distance to amenities
Walking distance to the beach
Coffee Maker
Microwave
Washing Machine
Dishwasher
WiFi Internet Access
Parking: Off Street Parking
Availability
September 2021
S
M
T
W
T
F
S

1

2

3

4

5

6

7

8

9

10

11

12

13

14
15
16
17
18
19
20
21
22
23
24
25
26
27
28
29
30
October 2021
S
M
T
W
T
F
S

1

2

3

4

5

6

7

8

9

10

11

12

13

14

15

16

17

18

19

20

21

22

23

24

25

26

27

28

29

30

31
November 2021
S
M
T
W
T
F
S

1

2

3

4

5

6

7

8

9

10

11

12

13

14

15

16

17

18

19

20

21

22

23

24

25

26

27

28

29

30
December 2021
S
M
T
W
T
F
S

1

2
3
4
5
6
7
8
9
10
11
12
13
14
15
16
17
18
19
20
21
22
23
24
25
26
27
28
29
30
31
January 2022
S
M
T
W
T
F
S
1
2
3
4
5
6
7
8
9
10
11
12
13
14
15
16
17
18
19
20
21
22
23
24
25
26
27
28
29
30
31
February 2022
S
M
T
W
T
F
S
1
2
3
4
5
6
7
8
9
10
11
12
13
14
15
16
17
18
19
20
21
22
23
24
25
26
27
28
March 2022
S
M
T
W
T
F
S
1
2
3
4
5
6
7
8
9
10
11
12
13
14
15
16
17
18
19
20
21
22
23
24
25
26
27
28
29
30
31
April 2022
S
M
T
W
T
F
S
1
2
3
4
5
6
7
8
9
10
11
12
13
14
15
16
17
18
19
20
21
22
23
24
25
26
27
28
29
30
May 2022
S
M
T
W
T
F
S
1
2
3
4
5
6
7
8
9
10
11
12
13
14
15
16
17
18
19
20
21
22
23
24
25
26
27
28
29
30
31
June 2022
S
M
T
W
T
F
S
1
2
3
4
5
6
7
8
9
10
11
12
13
14
15
16
17
18
19
20
21
22
23
24
25
26
27
28
29
30
July 2022
S
M
T
W
T
F
S
1
2
3
4
5
6
7
8
9
10
11
12
13
14
15
16
17
18
19
20
21
22
23
24
25
26
27
28
29
30
31
August 2022
S
M
T
W
T
F
S
1
2
3
4
5
6
7
8
9
10
11
12
13
14
15
16
17
18
19
20
21
22
23
24
25
26
27
28
29
30
31
Enquire about this property / Booking Request