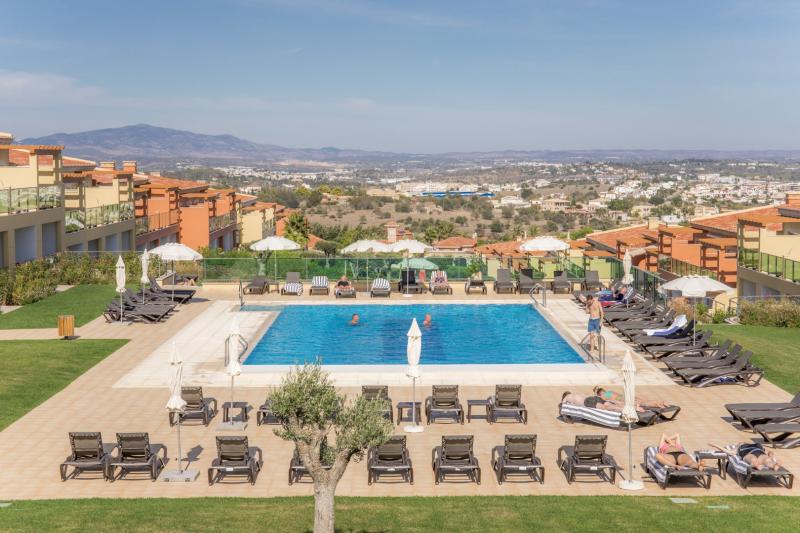 Two bedroom townhouses at "Bela Colina Village" on the Boavista Golf & Leisure Resort. Available for long term winter lets between November and May with rates inclusive of utilities, cleaning and Spa access.
The Bela Colina Village features contemporary two-bedroom townhouses, two exterior pools and two children´s pool open all year, as well as the family friendly "La Bistro" restaurant which serves breakfast, lunch and dinner.

The properties are fitted with elegant furnishings, two furnished balconies and modern kitchens.

Guests of the village will have access to Boavista's on-site Essential Fitness & Spa, which includes an indoor and outdoor pool, sauna & a well-appointed fitness centre. Massage and other treatments are also available at the Spa.

At the clubhouse restaurant, bar and lounge, enjoy the large sunny terrace with some of the finest views of the bay of Lagos and watch golfers finishing their round on the 18th green.

The centre of Lagos is less than a 10-minute drive away.

Monthly rates:
October 2022: €2,550
November 2022 to February 2023: €2,040
March to May 2023: €2,550
Prices include utilities, Spa access, wifi, satellite service, and weekly cleaning.
Benefits included: 50% discount in the SPA access which includes indoor heated pool, jacuzzi, sauna, gym and a steam room.
25% discount on green fees
10% discount in treatments and massages at the SPA, as well as in the restaurant and the club house.


From:
€2,040/month
RATES:
ENQUIRE NOW
PROPERTY FEATURES:
Construction Area: 0m2
Air conditioned living room
Balcony
Golf Resort
Cable TV
Electric Shutters
WiFi Internet Access
En-suite bathroom
Availability
May 2022
S
M
T
W
T
F
S
1
2
3
4
5
6
7
8
9
10
11
12
13
14
15
16
17
18
19
20
21
22
23
24
25
26
27
28
29
30
31
June 2022
S
M
T
W
T
F
S
1
2
3
4
5
6
7
8
9
10
11
12
13
14
15
16
17
18
19
20
21
22
23
24
25
26
27
28
29
30
July 2022
S
M
T
W
T
F
S
1
2
3
4
5
6
7
8
9
10
11
12
13
14
15
16
17
18
19
20
21
22
23
24
25
26
27
28
29
30
31
August 2022
S
M
T
W
T
F
S
1
2
3
4
5
6
7
8
9
10
11
12
13
14
15
16
17
18
19
20
21
22
23
24
25
26
27
28
29
30
31
September 2022
S
M
T
W
T
F
S
1
2
3
4
5
6
7
8
9
10
11
12
13
14
15
16
17
18
19
20
21
22
23
24
25
26
27
28
29
30
October 2022
S
M
T
W
T
F
S
1
2
3
4
5
6
7
8
9
10
11
12
13
14
15
16
17
18
19
20
21
22
23
24
25
26
27
28
29
30
31
November 2022
S
M
T
W
T
F
S
1
2
3
4
5
6
7
8
9
10
11
12
13
14
15
16
17
18
19
20
21
22
23
24
25
26
27
28
29
30
December 2022
S
M
T
W
T
F
S
1
2
3
4
5
6
7
8
9
10
11
12
13
14
15
16
17
18
19
20
21
22
23
24
25
26
27
28
29
30
31
January 2023
S
M
T
W
T
F
S
1
2
3
4
5
6
7
8
9
10
11
12
13
14
15
16
17
18
19
20
21
22
23
24
25
26
27
28
29
30
31
February 2023
S
M
T
W
T
F
S
1
2
3
4
5
6
7
8
9
10
11
12
13
14
15
16
17
18
19
20
21
22
23
24
25
26
27
28
March 2023
S
M
T
W
T
F
S
1
2
3
4
5
6
7
8
9
10
11
12
13
14
15
16
17
18
19
20
21
22
23
24
25
26
27
28
29
30
31
April 2023
S
M
T
W
T
F
S
1
2
3
4
5
6
7
8
9
10
11
12
13
14
15
16
17
18
19
20
21
22
23
24
25
26
27
28
29
30
Enquire about this property / Booking Request