Boavista T2 with outdoor space (84A) - Annual let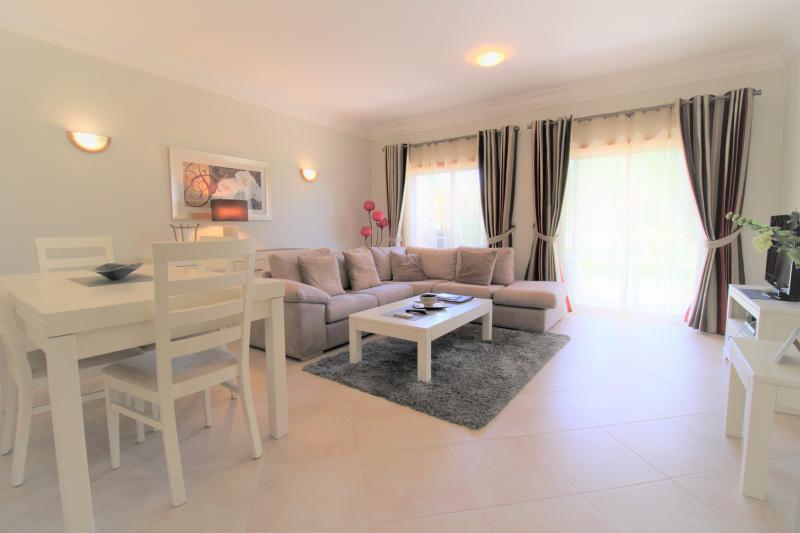 Beautiful two bedroom, 2 bathroom apartment with garden and garage parking, located at Boavista Golf and Spa Resort
Simply gorgeous... This apartment is the perfect property for annual rental.

The location provides an ideal balance of being close to Lagos town, amenities and beaches; whilst you can enjoy the greenery and open space of the Golf Resort.

Although a ground floor apartment, it is positioned over the garage, meaning that you have a raised balcony on the front side of the property which is accessible from both bedrooms and faces east.

On the rear, west facing side of the property, the private garden is accessible from the open plan living/dining area. Here, you can enjoy the nature, birds and surroundings in the afternoon sun; a sense of pure tranquillity.

The apartment is well equipped and furnished to a high standard with electric shutters, double glazing, underfloor heating in both bathrooms and a full kitchen with larder cupboard.

The bedrooms are spacious with large built in storage wardrobes.

Tenants have access to the Bela Colina outdoor swimming pool.

Available immediately for annual rent, for 1400€ per month plus utilities and internet.




From:
€1,400/month
RATES:
ENQUIRE NOW
PROPERTY MAP
PROPERTY FEATURES:
Construction Area: 0m2
Air conditioned bedrooms
Air conditioned living room
Private Patio
Air Conditioning
Safe
Furnished
Balcony
Storage Facility
Golf Resort
Swimming Pool: Shared
Iron & Ironing Board
Close to Town
Walking distance to resort facilities
Microwave
Mosquito Screens
Dishwasher
Washing Machine
Double Glazing
Electric Shutters
En-suite bathroom
Parking: Parking Space In Communal Garage
Equipped Kitchen
Availability
August 2022
S
M
T
W
T
F
S
1
2
3
4
5
6
7
8
9
10
11
12
13
14
15
16
17
18
19
20
21
22
23
24
25
26
27
28
29
30
31
September 2022
S
M
T
W
T
F
S

1

2

3

4

5

6

7

8

9

10

11

12

13

14

15

16

17

18

19

20

21

22

23

24

25

26

27

28

29

30
October 2022
S
M
T
W
T
F
S

1

2

3

4

5

6

7

8

9

10

11

12

13

14

15

16

17

18

19

20

21

22

23

24

25

26

27

28

29

30

31
November 2022
S
M
T
W
T
F
S

1

2

3

4

5

6

7

8

9

10

11

12

13

14

15

16

17

18

19

20

21

22

23

24

25

26

27

28

29

30
December 2022
S
M
T
W
T
F
S

1

2

3

4

5

6

7

8

9

10

11

12

13

14

15

16

17

18

19

20

21

22

23

24

25

26

27

28

29

30

31
January 2023
S
M
T
W
T
F
S

1

2

3

4

5

6

7

8

9

10

11

12

13

14

15

16

17

18

19

20

21

22

23

24

25

26

27

28

29

30

31
February 2023
S
M
T
W
T
F
S

1

2

3

4

5

6

7

8

9

10

11

12

13

14

15

16

17

18

19

20

21

22

23

24

25

26

27

28
March 2023
S
M
T
W
T
F
S

1

2

3

4

5

6

7

8

9

10

11

12

13

14

15

16

17

18

19

20

21

22

23

24

25

26

27

28

29

30

31
April 2023
S
M
T
W
T
F
S

1

2

3

4

5

6

7

8

9

10

11

12

13

14

15

16

17

18

19

20

21

22

23

24

25

26

27

28

29

30
May 2023
S
M
T
W
T
F
S

1

2

3

4

5

6

7

8

9

10

11

12

13

14

15

16

17

18

19

20

21

22

23

24

25

26

27

28

29

30

31
June 2023
S
M
T
W
T
F
S

1

2

3

4

5

6

7

8

9

10

11

12

13

14

15

16

17

18

19

20

21

22

23

24

25

26

27

28

29

30
July 2023
S
M
T
W
T
F
S

1

2

3

4

5

6

7

8

9

10

11

12

13

14

15

16

17

18

19

20

21

22

23

24

25

26

27

28

29

30

31
Enquire about this property / Booking Request