Villa Cora 248, Monte Canelas - Annual let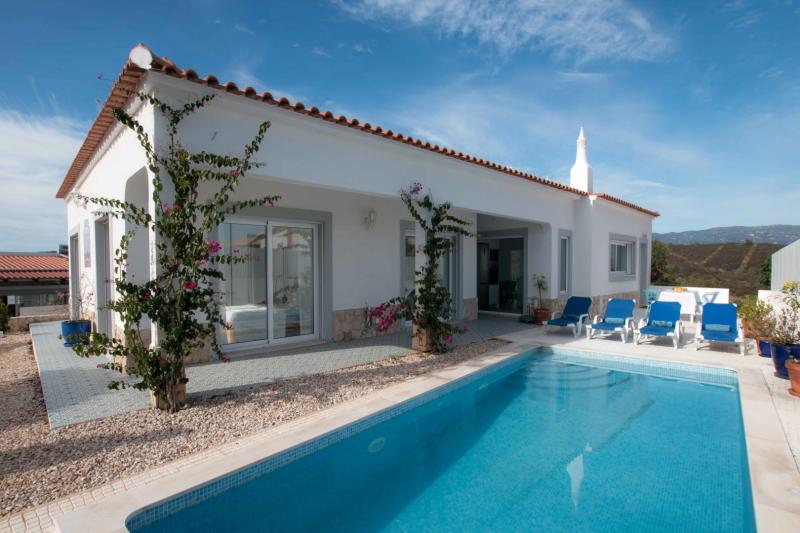 Stunning new villa, with private pool and open countryside views. This villa is single-storied, with the option to include the downstairs annex.
This beautiful villa is fully furnished and equipped to a high standard.

With glass sliding doors in all rooms, the space is light and bright.

From the kitchen and living area you have open countryside views, with access onto the balcony you can relax enjoy the peace and quiet.

Off the main house, all three bedrooms lead outdoors to the garden and pool area. The master bedroom has a spacious en-suite bathroom, whilst there is a second bathroom to serve the second two bedrooms.

On the lower level, there is a second spacious living area, and stylish bedroom, again both with outdoor access.

There is a carport to provide off-street parking for two cars.

With this location you can enjoy the balance of countryside tranquillity, whilst having the closest towns, beach and golf courses just a short drive away:

- 13.6km to Portimão
- 21km to Lagos
- 11 Km to Alvor (with the closest beach)
- 15.4km to the closest Beach - Praia da Rocha
- 6.2 Km to Penina Golf course

NOTE: Garden and pool maintenance to be charged to the tenant: 120€ per month.


From:
€2,250/month
RATES:
ENQUIRE NOW
PROPERTY MAP
PROPERTY FEATURES:
Construction Area: 0m2
Fireplace
Furnished
Balcony
Swimming Pool: Private
Car Essential
View: Country
Dishwasher
Double Glazing
Electric Gate
Parking: Carport
Availability
June 2023
S
M
T
W
T
F
S

1

2

3

4

5

6

7

8

9

10

11

12

13

14

15

16

17

18

19

20

21

22

23

24

25

26

27

28

29

30
July 2023
S
M
T
W
T
F
S

1

2

3

4

5

6

7

8

9

10

11

12

13

14

15

16

17

18

19

20

21

22

23

24

25

26

27

28

29

30

31
August 2023
S
M
T
W
T
F
S

1

2

3

4

5

6

7

8

9

10

11

12

13

14

15

16

17

18

19

20

21

22

23

24

25

26

27

28

29

30

31
September 2023
S
M
T
W
T
F
S

1

2

3

4

5

6

7

8

9

10

11

12

13

14

15

16

17

18

19

20

21

22

23

24

25

26

27

28

29

30
October 2023
S
M
T
W
T
F
S

1

2

3

4

5

6

7

8

9

10

11

12

13

14

15

16

17

18

19

20

21

22

23

24

25

26

27

28

29

30

31
November 2023
S
M
T
W
T
F
S

1

2

3

4

5

6

7

8

9

10

11

12

13

14

15

16

17

18

19

20

21

22

23

24

25

26

27

28

29

30
December 2023
S
M
T
W
T
F
S

1

2

3

4

5

6

7

8

9

10

11

12

13

14

15

16

17

18

19

20

21

22

23

24

25

26

27

28

29

30

31
January 2024
S
M
T
W
T
F
S

1

2

3

4

5

6

7

8

9

10

11

12

13

14

15

16

17

18

19

20

21

22

23

24

25

26

27

28

29

30

31
February 2024
S
M
T
W
T
F
S

1

2

3

4

5

6

7

8

9

10

11

12

13

14

15

16

17

18

19

20

21

22

23

24

25

26

27

28

29
March 2024
S
M
T
W
T
F
S

1

2

3

4

5

6

7

8

9

10

11

12

13

14

15

16

17

18

19

20

21

22

23

24

25

26

27

28

29

30

31
April 2024
S
M
T
W
T
F
S

1

2

3

4

5

6

7

8

9

10

11

12

13

14

15

16

17

18

19

20

21

22

23

24

25

26

27

28

29

30
May 2024
S
M
T
W
T
F
S

1

2

3

4

5

6

7

8

9

10

11

12

13

14

15

16

17

18

19

20

21

22

23

24

25

26

27

28

29

30

31
Enquire about this property / Booking Request