Porto de Mos Two Bedroom apartment - N73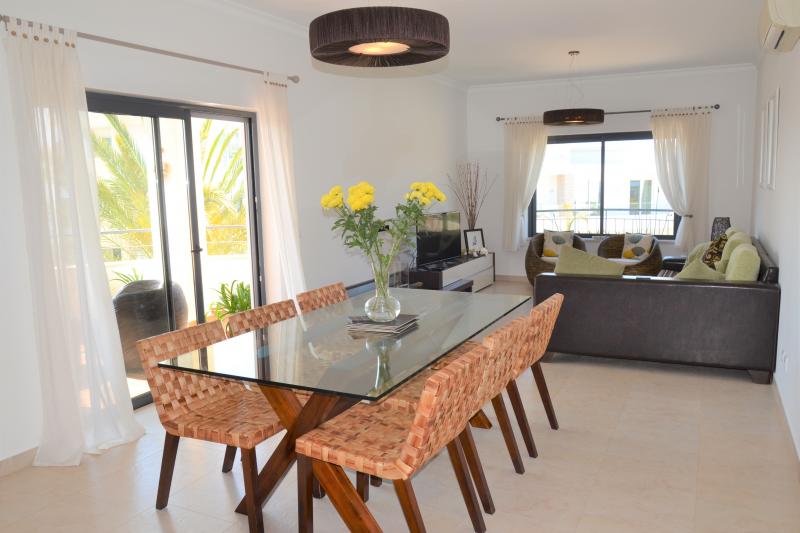 Stunning Porto do Mos two-bedroom apartment, located in a sort after area.
This apartment is simply beautiful, finished to a high standard with quality furnishings.

Comfortable, light and quiet, the property provides a relaxing and sophisticated ambiance.

The open plan living, dining and kitchen area lead out onto a large balcony, with seating and BBQ.

Both bedrooms also have access to small, private balconies meaning that you can enjoy the sunlight throughout the day.

The master bedroom has an ensuite, whilst the twin bedroom has access to a separate family bathroom.

There is air conditioning fitted throughout as well as surround sound music system.

Tenants have use of a large parking space in the underground garage.

Walking distance to Porto do Mos beach, and a short distance to Lagos, Boavista Spa & Golf Resort and amenities.

Overall, this is a special find for a winter rental. Available for a 6 month let, November until April at 1300€ per month plus utilities and Internet/TV.



From:
€1,300/month
RATES:
ENQUIRE NOW
PROPERTY FEATURES:
Air Conditioning
Balcony
BBQ
Golf nearby
Swimming Pool: Shared
Central sound system
Central Vacuum
Close to Beach
Microwave
Washing Machine
Dishwasher
Parking: Parking Space In Communal Garage
Availability
July 2020
S
M
T
W
T
F
S
1
2
3
4
5
6
7
8
9
10
11
12
13
14
15
16
17
18
19
20
21
22
23
24
25
26
27
28
29
30
31
August 2020
S
M
T
W
T
F
S
1
2
3
4
5
6
7
8
9
10
11
12
13
14
15
16
17
18
19
20
21
22
23
24
25
26
27
28
29
30
31
September 2020
S
M
T
W
T
F
S
1
2
3
4
5
6
7
8
9
10
11
12
13
14
15
16
17
18
19
20
21
22
23
24
25
26
27
28
29
30
October 2020
S
M
T
W
T
F
S
1
2
3
4
5
6
7
8
9
10
11
12
13
14
15
16
17
18
19
20
21
22
23
24
25
26
27
28
29
30
31
November 2020
S
M
T
W
T
F
S
1
2
3
4
5
6
7
8
9
10
11
12
13
14
15
16
17
18
19
20
21
22
23
24
25
26
27
28
29
30
December 2020
S
M
T
W
T
F
S
1
2
3
4
5
6
7
8
9
10
11
12
13
14
15
16
17
18
19
20
21
22
23
24
25
26
27
28
29
30
31
January 2021
S
M
T
W
T
F
S
1
2
3
4
5
6
7
8
9
10
11
12
13
14
15
16
17
18
19
20
21
22
23
24
25
26
27
28
29
30
31
February 2021
S
M
T
W
T
F
S
1
2
3
4
5
6
7
8
9
10
11
12
13
14
15
16
17
18
19
20
21
22
23
24
25
26
27
28
March 2021
S
M
T
W
T
F
S
1
2
3
4
5
6
7
8
9
10
11
12
13
14
15
16
17
18
19
20
21
22
23
24
25
26
27
28
29
30
31
April 2021
S
M
T
W
T
F
S
1
2
3
4
5
6
7
8
9
10
11
12
13
14
15
16
17
18
19
20
21
22
23
24
25
26
27
28
29
30
May 2021
S
M
T
W
T
F
S
1
2
3
4
5
6
7
8
9
10
11
12
13
14
15
16
17
18
19
20
21
22
23
24
25
26
27
28
29
30
31
June 2021
S
M
T
W
T
F
S
1
2
3
4
5
6
7
8
9
10
11
12
13
14
15
16
17
18
19
20
21
22
23
24
25
26
27
28
29
30
Enquire about this property / Booking Request