Boavista 60D - T2 with garage - Annual let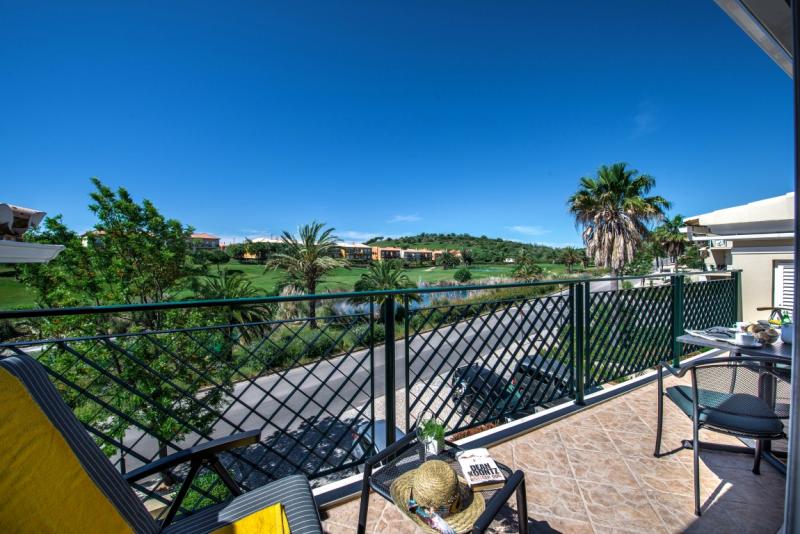 A first floor 2 bedroom apartment with garage, over-looking the Boavista Golf Course.
This well presented apartment benefits from front and rear balconies both with views over the golf course.

The accommodation comprises of a large bright lounge/dining area, a fully fitted kitchen, two double-sized bedrooms both with fitted wardrobes and access to balconies and 2 bathrooms (1 en-suite). The kitchen and en-suite bathroom have been recently renovated and remodelled. With a new open plan design between the kitchen and living space, there is a good flow of light and green, open views out to both sides of the property.

The apartment is fully air conditioned and there is shared double garage under the property.

Ideally located close to the beaches, town centre, and all amenities.

No Pets allowed on Boavista development, available for annual rental from December.


From:
€1,400/month
RATES:
ENQUIRE NOW
PROPERTY MAP
PROPERTY FEATURES:
Construction Area: 120m2
Air Conditioning
Furnished
Golf Resort
Swimming Pool: Shared
Mosquito Screens
Double Glazing
Electric Shutters
Parking: Private Garage
Availability
November 2022
S
M
T
W
T
F
S

1

2

3

4

5

6

7

8

9

10

11

12

13

14

15

16

17

18

19

20

21

22

23

24

25

26

27

28
29
30
December 2022
S
M
T
W
T
F
S
1
2
3
4
5
6
7
8
9
10
11
12
13
14
15
16
17
18
19
20
21
22
23
24
25
26
27
28
29
30
31
January 2023
S
M
T
W
T
F
S
1
2
3
4
5
6
7
8
9
10
11
12
13
14
15
16
17
18
19
20
21
22
23
24
25
26
27
28
29
30
31
February 2023
S
M
T
W
T
F
S
1
2
3
4
5
6
7
8
9
10
11
12
13
14
15
16
17
18
19
20
21
22
23
24
25
26
27
28
March 2023
S
M
T
W
T
F
S
1
2
3
4
5
6
7
8
9
10
11
12
13
14
15
16
17
18
19
20
21
22
23
24
25
26
27
28
29
30
31
April 2023
S
M
T
W
T
F
S
1
2
3
4
5
6
7
8
9
10
11
12
13
14
15
16
17
18
19
20
21
22
23
24
25
26
27
28
29
30
May 2023
S
M
T
W
T
F
S
1
2
3
4
5
6
7
8
9
10
11
12
13
14
15
16
17
18
19
20
21
22
23
24
25
26
27
28
29
30
31
June 2023
S
M
T
W
T
F
S
1
2
3
4
5
6
7
8
9
10
11
12
13
14
15
16
17
18
19
20
21
22
23
24
25
26
27
28
29
30
July 2023
S
M
T
W
T
F
S
1
2
3
4
5
6
7
8
9
10
11
12
13
14
15
16
17
18
19
20
21
22
23
24
25
26
27
28
29
30
31
August 2023
S
M
T
W
T
F
S
1
2
3
4
5
6
7
8
9
10
11
12
13
14
15
16
17
18
19
20
21
22
23
24
25
26
27
28
29
30
31
September 2023
S
M
T
W
T
F
S
1
2
3
4
5
6
7
8
9
10
11
12
13
14
15
16
17
18
19
20
21
22
23
24
25
26
27
28
29
30
October 2023
S
M
T
W
T
F
S
1
2
3
4
5
6
7
8
9
10
11
12
13
14
15
16
17
18
19
20
21
22
23
24
25
26
27
28
29
30
31
Enquire about this property / Booking Request