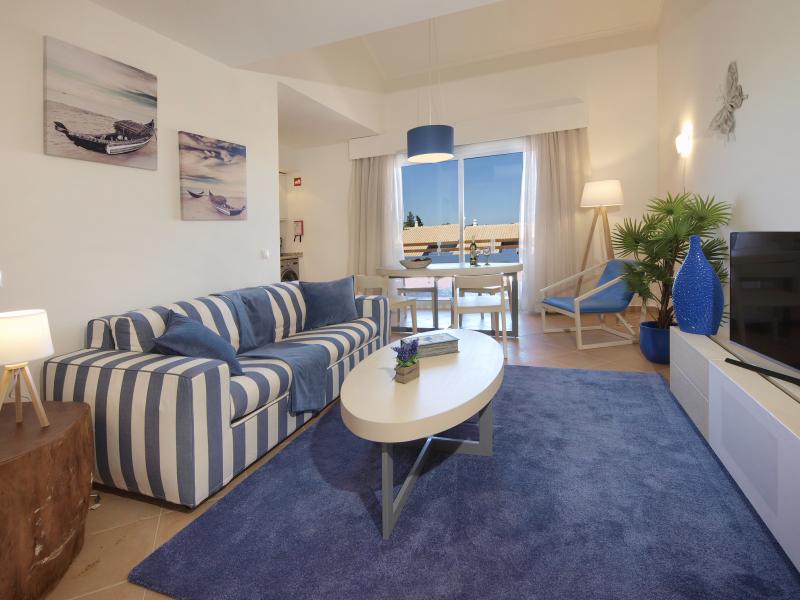 Aldeia Azul is a charming new family resort in Western Algarve.
Here you can benefit from both the resort's green surroundings with its beautiful rustic flowers as well as the short distance to some of the most beautiful beaches in the Algarve.

The decoration of the whole development is based on the combination of elegance and countryside elements, in a calm, natural and absorbing atmosphere, which invites relaxation and entertainment, given all the different options on site.

The resort is only a 5 minute drive to the historical centre of Lagos, Praia da Luz and a number of amazing beaches. This is the ideal location for all those who want to benefit from a quiet, beautiful environment during a family holiday or a break to your recharge batteries.

Depending on you preferences, you can choose to have a meal from the distinct menu of our Restaurant, a tasty snack or a cocktail in the Lounge Bar. There is also a varied selection of wines.

You can stay in a 1 or 2 bedroom property, and they all include fully equipped kitchens, garden furniture on the terraces, air-conditioning, TV, DVD player, safe and free Wi-Fi.


From:
€1,050/month
RATES:
ENQUIRE NOW
PROPERTY FEATURES:
Air Conditioning
Furnished
Games Room
Golf nearby
Suitable for Children
Swimming Pool: Shared
Gymnasium
Tennis Court
Car Recommended
Childrens Play area
Kids Club (seasonal)
Multi-sports all-weather pitch
WiFi Internet Access
Availability
October 2021
S
M
T
W
T
F
S
1
2
3
4
5
6
7
8
9
10
11
12
13
14
15
16
17
18
19
20
21
22
23
24
25
26
27
28
29
30
31
November 2021
S
M
T
W
T
F
S
1
2
3
4
5
6
7
8
9
10
11
12
13
14
15
16
17
18
19
20
21
22
23
24
25
26
27
28
29
30
December 2021
S
M
T
W
T
F
S
1
2
3
4
5
6
7
8
9
10
11
12
13
14
15
16
17
18
19
20
21
22
23
24
25
26
27
28
29
30
31
January 2022
S
M
T
W
T
F
S
1
2
3
4
5
6
7
8
9
10
11
12
13
14
15
16
17
18
19
20
21
22
23
24
25
26
27
28
29
30
31
February 2022
S
M
T
W
T
F
S
1
2
3
4
5
6
7
8
9
10
11
12
13
14
15
16
17
18
19
20
21
22
23
24
25
26
27
28
March 2022
S
M
T
W
T
F
S
1
2
3
4
5
6
7
8
9
10
11
12
13
14
15
16
17
18
19
20
21
22
23
24
25
26
27
28
29
30
31
April 2022
S
M
T
W
T
F
S
1
2
3
4
5
6
7
8
9
10
11
12
13
14
15
16
17
18
19
20
21
22
23
24
25
26
27
28
29
30
May 2022
S
M
T
W
T
F
S
1
2
3
4
5
6
7
8
9
10
11
12
13
14
15
16
17
18
19
20
21
22
23
24
25
26
27
28
29
30
31
June 2022
S
M
T
W
T
F
S
1
2
3
4
5
6
7
8
9
10
11
12
13
14
15
16
17
18
19
20
21
22
23
24
25
26
27
28
29
30
July 2022
S
M
T
W
T
F
S
1
2
3
4
5
6
7
8
9
10
11
12
13
14
15
16
17
18
19
20
21
22
23
24
25
26
27
28
29
30
31
August 2022
S
M
T
W
T
F
S
1
2
3
4
5
6
7
8
9
10
11
12
13
14
15
16
17
18
19
20
21
22
23
24
25
26
27
28
29
30
31
September 2022
S
M
T
W
T
F
S
1
2
3
4
5
6
7
8
9
10
11
12
13
14
15
16
17
18
19
20
21
22
23
24
25
26
27
28
29
30
Enquire about this property / Booking Request