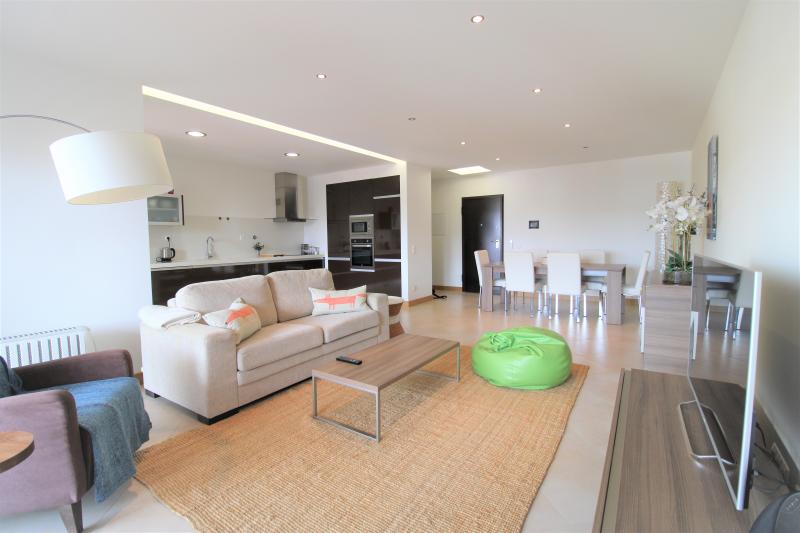 Spacious and contemporary 2 bedroom apartment set between Lagos center and the beach, with a large west facing terrace and offering views over the pool. Available October 2021!
This property is conveniently located with all amenities on its doorstep, and is a short walk to Lagos historic town center and the beaches.

Set on a modern building, the apartment is naturally light, giving a fabulous spatial enhancement. It offers 2 bedrooms, 2 bathrooms, a large entrance hall, a fully fitted kitchen and an exceptionally large living / dining area.

There are two double bedrooms, each with built-in wardrobes; the master has an en-suite bathroom. All bedrooms have access to balconies, as well as the lounge diner area which opens onto the large terrace and offers wonderful views over the pool area.

The fully furnished kitchen is spacious and has access to the same terrace.

Further features include reverse air-conditioning for heating and cooling, Solar panels, high quality double glazing, electric shutters and central vacuum system.

There is also a dedicated, secure car parking space in the underground car park.

Available from October 2021.


From:
€1,200/month
RATES:
ENQUIRE NOW
PROPERTY MAP
PROPERTY FEATURES:
Parking: Parking Space In Communal Garage
Air Conditioning
Balcony
Suitable for Children
Cable TV
Swimming Pool: Shared
Walking distance to amenities
Close to Town
Dishwasher
Washing Machine
Availability
August 2021
S
M
T
W
T
F
S

1

2

3

4

5

6

7

8

9

10

11

12

13

14

15

16

17

18

19

20

21

22

23

24

25

26

27

28

29

30

31
September 2021
S
M
T
W
T
F
S

1

2

3

4

5

6

7

8

9

10

11

12

13

14

15

16

17

18

19

20

21

22

23

24

25

26

27

28

29

30
October 2021
S
M
T
W
T
F
S
1
2
3
4
5
6
7
8
9
10
11
12
13
14
15
16
17
18
19
20
21
22
23
24
25
26
27
28
29
30
31
November 2021
S
M
T
W
T
F
S
1
2
3
4
5
6
7
8
9
10
11
12
13
14
15
16
17
18
19
20
21
22
23
24
25
26
27
28
29
30
December 2021
S
M
T
W
T
F
S
1
2
3
4
5
6
7
8
9
10
11
12
13
14
15
16
17
18
19
20
21
22
23
24
25
26
27
28
29
30
31
January 2022
S
M
T
W
T
F
S
1
2
3
4
5
6
7
8
9
10
11
12
13
14
15
16
17
18
19
20
21
22
23
24
25
26
27
28
29
30
31
February 2022
S
M
T
W
T
F
S
1
2
3
4
5
6
7
8
9
10
11
12
13
14
15
16
17
18
19
20
21
22
23
24
25
26
27
28
March 2022
S
M
T
W
T
F
S
1
2
3
4
5
6
7
8
9
10
11
12
13
14
15
16
17
18
19
20
21
22
23
24
25
26
27
28
29
30
31
April 2022
S
M
T
W
T
F
S
1
2
3
4
5
6
7
8
9
10
11
12
13
14
15
16
17
18
19
20
21
22
23
24
25
26
27
28
29
30
May 2022
S
M
T
W
T
F
S
1
2
3
4
5
6
7
8
9
10
11
12
13
14
15
16
17
18
19
20
21
22
23
24
25
26
27
28
29
30
31
June 2022
S
M
T
W
T
F
S
1
2
3
4
5
6
7
8
9
10
11
12
13
14
15
16
17
18
19
20
21
22
23
24
25
26
27
28
29
30
July 2022
S
M
T
W
T
F
S
1
2
3
4
5
6
7
8
9
10
11
12
13
14
15
16
17
18
19
20
21
22
23
24
25
26
27
28
29
30
31
Enquire about this property / Booking Request