Villa Vitoria, 2 bedroom townhouse, Lagos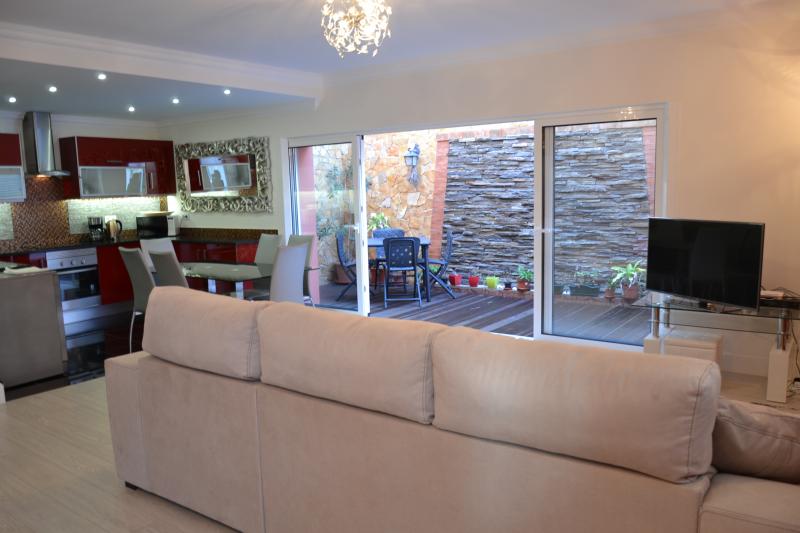 Beautiful 2 bedroom town centre house with internal patio area, AVAILABLE IMMEDIATELY.
Live with the locals! Located on a cobbled cul-de-sac amongst typical Portuguese townhouses close to the old town centre, this new build 2 storey property fits in with a pretty traditional style exterior which hides a beautiful modern interior.

The ground floor is an open plan kitchen, dining, and living area, with wide patio doors which open up to an attractive decked terrace. The shower-room with walk-in shower is also on this level.

A staircase leads to 2 bedrooms on the 1st floor with gorgeous white-beamed vaulted ceilings and a balcony, the master bedroom has a convenient en-suite WC.

Air conditioning throughout the property, fully equipped kitchen, cable TV, and WiFi.

No car required - walking distance to the shops, restaurant, marina, and beach.


From:
€950/month
RATES:
Titular da Exploração do Estabelecimento:
NADIA WAHAB
Nº Licença:
44441/AL
ENQUIRE NOW
PROPERTY MAP
PROPERTY FEATURES:
Air Conditioning
Private Patio
Furnished
Cable TV
Hairdryer
Walking distance to amenities
Microwave
Close to Town
Walking distance to the beach
Coffee Maker
Washing Machine
Dishwasher
Double Glazing
WiFi Internet Access
Entertainment: International Tv Channels, Portuguese Tv Channels
Availability
July 2020
S
M
T
W
T
F
S
1
2
3
4
5
6
7
8
9
10
11
12
13
14
15
16
17
18
19
20
21
22
23
24
25
26
27
28
29
30
31
August 2020
S
M
T
W
T
F
S
1
2
3
4
5
6
7
8
9
10
11
12
13
14
15
16
17
18
19
20
21
22
23
24
25
26
27
28
29
30
31
September 2020
S
M
T
W
T
F
S
1
2
3
4
5
6
7
8
9
10
11
12
13
14
15
16
17
18
19
20
21
22
23
24
25
26
27
28
29
30
October 2020
S
M
T
W
T
F
S
1
2
3
4
5
6
7
8
9
10
11
12
13
14
15
16
17
18
19
20
21
22
23
24
25
26
27
28
29
30
31
November 2020
S
M
T
W
T
F
S
1
2
3
4
5
6
7
8
9
10
11
12
13
14
15
16
17
18
19
20
21
22
23
24
25
26
27
28
29
30
December 2020
S
M
T
W
T
F
S
1
2
3
4
5
6
7
8
9
10
11
12
13
14
15
16
17
18
19
20
21
22
23
24
25
26
27
28
29
30
31
January 2021
S
M
T
W
T
F
S
1
2
3
4
5
6
7
8
9
10
11
12
13
14
15
16
17
18
19
20
21
22
23
24
25
26
27
28
29
30
31
February 2021
S
M
T
W
T
F
S
1
2
3
4
5
6
7
8
9
10
11
12
13
14
15
16
17
18
19
20
21
22
23
24
25
26
27
28
March 2021
S
M
T
W
T
F
S
1
2
3
4
5
6
7
8
9
10
11
12
13
14
15
16
17
18
19
20
21
22
23
24
25
26
27
28
29
30
31
April 2021
S
M
T
W
T
F
S
1
2
3
4
5
6
7
8
9
10
11
12
13
14
15
16
17
18
19
20
21
22
23
24
25
26
27
28
29
30
May 2021
S
M
T
W
T
F
S
1
2
3
4
5
6
7
8
9
10
11
12
13
14
15
16
17
18
19
20
21
22
23
24
25
26
27
28
29
30
31
June 2021
S
M
T
W
T
F
S
1
2
3
4
5
6
7
8
9
10
11
12
13
14
15
16
17
18
19
20
21
22
23
24
25
26
27
28
29
30
Enquire about this property / Booking Request