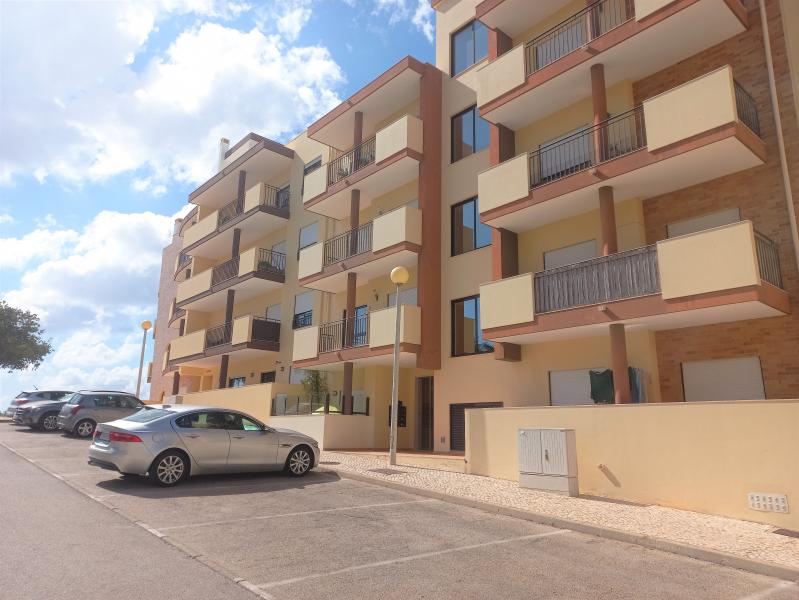 Lovely 2 bedroom and 2 bathroom apartment located in a calm residential area of Lagos not far from Porto de Mos beach.
The living area is bright and spacious. From the living room you can access a generous balcony with open views overlooking an unobscured green area. The living room benefits from air conditioning. The kitchen is fully equipped with appliances including washing machine and dishwasher. From the kitchen you can access the second balcony.

There are two bedrooms - one double and one twin, both are air conditioned. One of the two bathrooms is complete and has a bath and the other one has a shower.

There is an allocated parking space in a communal garage.

The property is rented fully furnished as seen on the photos.

Lagos city centre is within easy reach by car (5 minutes), Porto de Mos beach (3 minutes by car), Intermarché hypermarket is only 2km away and there are schools nearby too.


From:
€850/month
RATES:
ENQUIRE NOW
PROPERTY FEATURES:
Air conditioned bedrooms
Parking: Parking Space In Communal Garage
Air conditioned living room
Balcony
Furnished
Suitable for Children
Car Recommended
Terrace
Close to Beach
Close to Town
Dishwasher
Washing Machine
Availability
October 2021
S
M
T
W
T
F
S
1
2
3
4
5
6
7
8
9
10
11
12
13
14
15
16
17
18
19
20
21
22
23
24
25
26
27
28
29
30
31
November 2021
S
M
T
W
T
F
S
1
2
3
4
5
6
7
8
9
10
11
12
13
14
15
16
17
18
19
20
21
22
23
24
25
26
27
28
29
30
December 2021
S
M
T
W
T
F
S
1
2
3
4
5
6
7
8
9
10
11
12
13
14
15
16
17
18
19
20
21
22
23
24
25
26
27
28
29
30
31
January 2022
S
M
T
W
T
F
S
1
2
3
4
5
6
7
8
9
10
11
12
13
14
15
16
17
18
19
20
21
22
23
24
25
26
27
28
29
30
31
February 2022
S
M
T
W
T
F
S
1
2
3
4
5
6
7
8
9
10
11
12
13
14
15
16
17
18
19
20
21
22
23
24
25
26
27
28
March 2022
S
M
T
W
T
F
S
1
2
3
4
5
6
7
8
9
10
11
12
13
14
15
16
17
18
19
20
21
22
23
24
25
26
27
28
29
30
31
April 2022
S
M
T
W
T
F
S
1
2
3
4
5
6
7
8
9
10
11
12
13
14
15
16
17
18
19
20
21
22
23
24
25
26
27
28
29
30
May 2022
S
M
T
W
T
F
S
1
2
3
4
5
6
7
8
9
10
11
12
13
14
15
16
17
18
19
20
21
22
23
24
25
26
27
28
29
30
31
June 2022
S
M
T
W
T
F
S
1
2
3
4
5
6
7
8
9
10
11
12
13
14
15
16
17
18
19
20
21
22
23
24
25
26
27
28
29
30
July 2022
S
M
T
W
T
F
S
1
2
3
4
5
6
7
8
9
10
11
12
13
14
15
16
17
18
19
20
21
22
23
24
25
26
27
28
29
30
31
August 2022
S
M
T
W
T
F
S
1
2
3
4
5
6
7
8
9
10
11
12
13
14
15
16
17
18
19
20
21
22
23
24
25
26
27
28
29
30
31
September 2022
S
M
T
W
T
F
S
1
2
3
4
5
6
7
8
9
10
11
12
13
14
15
16
17
18
19
20
21
22
23
24
25
26
27
28
29
30
Enquire about this property / Booking Request