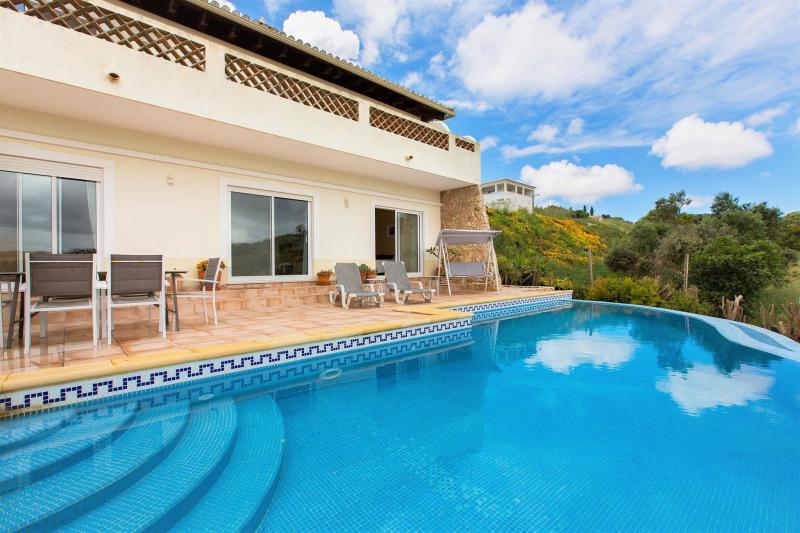 Four bedroom Villa located in the village Hortas do Tabul, Vila do Bispo.
This private villa is located in the Natural Vicentina Park, close to Zavial beach.

Covering two stories and fully furnished, this property provides a beautiful home with stunning countryside views.

On the ground floor: 2 en-suite bedrooms, kitchen and living area which leads to an outdoor space with salt water swimming pool. Here, you will also find a small garden with trampoline, table tennis and sheltered sun-bathing spot. Along with a barbecue area with a large table, this is the perfect outdoor space for gatherings.

On the first floor: 2 bedrooms, 2 bathrooms and an open plan kitchen, dining and living area, which has access to an outdoor terrace.

The villa is equiped with air-conditioning, central heating and solar panels.

Tennants also have access to a 40m2 storage room.

Available from September 2019 for annual rent.


From:
€2,500/month
RATES:
ENQUIRE NOW
PROPERTY FEATURES:
Ping Pong table
Air Conditioning
Fireplace
Private Patio
Furnished
Balcony
Solar Panels
BBQ
Swimming Pool: Saltwater
Car Essential
Heating: Central
Microwave
Availability
May 2019
S
M
T
W
T
F
S
1
2
3
4
5
6
7
8
9
10
11
12
13
14
15
16
17
18
19
20
21
22
23
24
25
26
27
28
29
30
31
June 2019
S
M
T
W
T
F
S
1
2
3
4
5
6
7
8
9
10
11
12
13
14
15
16
17
18
19
20
21
22
23
24
25
26
27
28
29
30
July 2019
S
M
T
W
T
F
S
1
2
3
4
5
6
7
8
9
10
11
12
13
14
15
16
17
18
19
20
21
22
23
24
25
26
27
28
29
30
31
August 2019
S
M
T
W
T
F
S
1
2
3
4
5
6
7
8
9
10
11
12
13
14
15
16
17
18
19
20
21
22
23
24
25
26
27
28
29
30
31
September 2019
S
M
T
W
T
F
S
1
2
3
4
5
6
7
8
9
10
11
12
13
14
15
16
17
18
19
20
21
22
23
24
25
26
27
28
29
30
October 2019
S
M
T
W
T
F
S
1
2
3
4
5
6
7
8
9
10
11
12
13
14
15
16
17
18
19
20
21
22
23
24
25
26
27
28
29
30
31
November 2019
S
M
T
W
T
F
S
1
2
3
4
5
6
7
8
9
10
11
12
13
14
15
16
17
18
19
20
21
22
23
24
25
26
27
28
29
30
December 2019
S
M
T
W
T
F
S
1
2
3
4
5
6
7
8
9
10
11
12
13
14
15
16
17
18
19
20
21
22
23
24
25
26
27
28
29
30
31
January 2020
S
M
T
W
T
F
S
1
2
3
4
5
6
7
8
9
10
11
12
13
14
15
16
17
18
19
20
21
22
23
24
25
26
27
28
29
30
31
February 2020
S
M
T
W
T
F
S
1
2
3
4
5
6
7
8
9
10
11
12
13
14
15
16
17
18
19
20
21
22
23
24
25
26
27
28
29
March 2020
S
M
T
W
T
F
S
1
2
3
4
5
6
7
8
9
10
11
12
13
14
15
16
17
18
19
20
21
22
23
24
25
26
27
28
29
30
31
April 2020
S
M
T
W
T
F
S
1
2
3
4
5
6
7
8
9
10
11
12
13
14
15
16
17
18
19
20
21
22
23
24
25
26
27
28
29
30
Enquire about this property