Rua Mendonça Pessanha - Long Let (LS_1)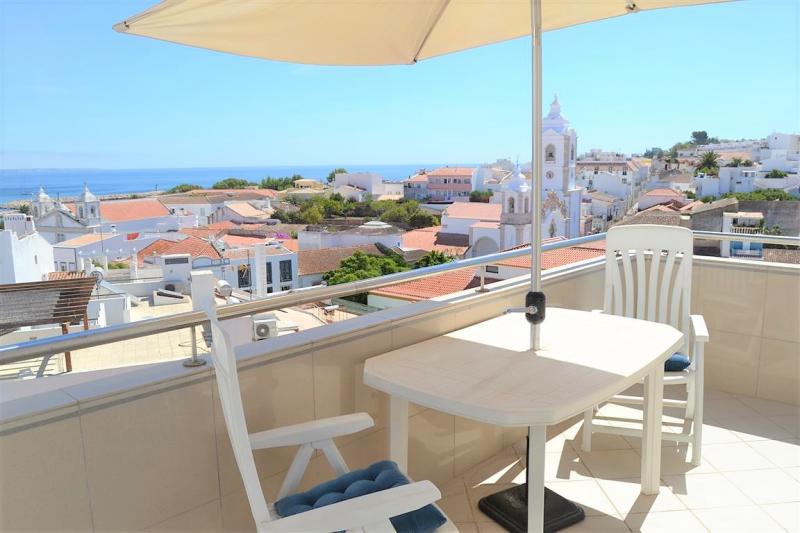 Town centre 2 bed apartment with magnificent, unbeatable views!
Fully furnished 2-bedroom, 2-bathroom apartment located in the heart of Lagos Old Town.

Positioned on the top floor, the apartment offers incredible views of the ocean and the full stretch of Meia Praia Beach. With a picture window, the views can be enjoyed all day long from the comfort of your home.

In addition, there is an outside balcony which is perfect for 'al fresco' dining.

The kitchen is fully equipped with a utility room extension.

The living room and master bedroom are equipped with split unit air-conditioning. There is also a wall heater in the living area for extra comfort in the winter months.

Available from November 2020.



From:
€1,100/month
RATES:
ENQUIRE NOW
PROPERTY MAP
PROPERTY FEATURES:
Air conditioned living room
Roof Terrace
Furnished
Tumble Dryer
Iron & Ironing Board
Walking distance to amenities
Close to Beach
Close to Town
Coffee Maker
Microwave
Washing Machine
Dishwasher
Availability
October 2021
S
M
T
W
T
F
S

1

2

3

4

5

6

7

8

9

10

11

12

13

14

15

16

17

18

19

20

21

22

23

24

25

26

27

28

29

30

31
November 2021
S
M
T
W
T
F
S
1
2
3
4
5
6
7
8
9
10
11
12
13
14
15
16
17
18
19
20
21
22
23
24
25
26
27
28
29
30
December 2021
S
M
T
W
T
F
S
1
2
3
4
5
6
7
8
9
10
11
12
13
14
15
16
17
18
19
20
21
22
23
24
25
26
27
28
29
30
31
January 2022
S
M
T
W
T
F
S
1
2
3
4
5
6
7
8
9
10
11
12
13
14
15
16
17
18
19
20
21
22
23
24
25
26
27
28
29
30
31
February 2022
S
M
T
W
T
F
S
1
2
3
4
5
6
7
8
9
10
11
12
13
14
15
16
17
18
19
20
21
22
23
24
25
26
27
28
March 2022
S
M
T
W
T
F
S
1
2
3
4
5
6
7
8
9
10
11
12
13
14
15
16
17
18
19
20
21
22
23
24
25
26
27
28
29
30
31
April 2022
S
M
T
W
T
F
S
1
2
3
4
5
6
7
8
9
10
11
12
13
14
15
16
17
18
19
20
21
22
23
24
25
26
27
28
29
30
May 2022
S
M
T
W
T
F
S
1
2
3
4
5
6
7
8
9
10
11
12
13
14
15
16
17
18
19
20
21
22
23
24
25
26
27
28
29
30
31
June 2022
S
M
T
W
T
F
S
1
2
3
4
5
6
7
8
9
10
11
12
13
14
15
16
17
18
19
20
21
22
23
24
25
26
27
28
29
30
July 2022
S
M
T
W
T
F
S
1
2
3
4
5
6
7
8
9
10
11
12
13
14
15
16
17
18
19
20
21
22
23
24
25
26
27
28
29
30
31
August 2022
S
M
T
W
T
F
S
1
2
3
4
5
6
7
8
9
10
11
12
13
14
15
16
17
18
19
20
21
22
23
24
25
26
27
28
29
30
31
September 2022
S
M
T
W
T
F
S
1
2
3
4
5
6
7
8
9
10
11
12
13
14
15
16
17
18
19
20
21
22
23
24
25
26
27
28
29
30
Enquire about this property / Booking Request